Upcoming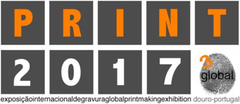 The 3rd Global Print Exhibition at the Museu do Douro in Peso da Régua, Portugal, invites printmakers from around the world to showcase traditional and experimental printmaking techniques.
---
podcast interview
Daniel Digriz, with the Clark Hulings Fund, interviews Leslie Hirst about her work, philosophy, and goals.
---
Recent

Objectively Speaking
Center for Visual Research at Cedar Crest College
14 March - 15 April 2016
Artist's Talk and Reception 15 March from 6:30 - 8:30PM
---
Recent

MUVE Contemporaneo Exhibition at 56th Venice Biennale
Il filo dei messagi / Message Threads
30 May - 01 August 2015

This solo exhibition at the Museo del Merletto in Burano, Italy takes place in conjunction with the 56th International Biennale di Venezia.
---
Links
More articles, interviews and news can be found on the Links tab.